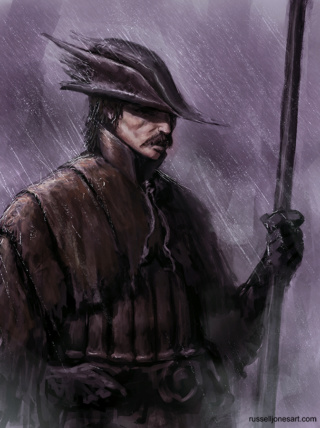 "Rhenwald? The one in the house on the outskirts? Aye, he's a ranger alright. Lives alone. Good luck gettin' through to the bloody blighter. He'll probably tell ya to piss off first coupl'a times. Gotta be somethin' really important to knock on the bugger's door. "Of vital importance", the way he puts it. And don't you pester him - he'll kick ya out and break a coupl'a ribs just to add insult to bloody injury. What? Don't give me that look. No, 'course I won't introduce ya! Too much of an honor, heheh. Maybe you'll get lucky! Find him when he's drunk. Don't even try anythin' if ya ain't got stomach for liquor. You'll crawl outta there a-groanin' come first light.
Tell ya what though. He might be an arse, but he's worth every penny. One of the best hunters 'round these parts, no joke. Gets the job done even if he's smashed. One of'em folks who got all the limbs in the right place if ya know what I mean. He's been out there with some tough lads and gals, blazin' the trail, slayin' orcs and kobolds and some such. Makes good traps, too. I could sure use some when them greenskins come again. Ain't much help though when there's a bloody horde in yer backyard eh? Heheh.
What, how he got that way? Bah, you uppity folks from Silverymoon and Waterdeep just can't give the man a break, eh? Look, he's seen some shite in his life. Some major steamin' shite, I tell ya. Life's tough out here ya know. Maybe he'll even tell if you can stomach his moonshine. Tell ya what, go get him some good baccy, he fancies the stuff. Well go on then. On with yer business or somethin'".
Appearance:
Cyrus is a big, brawny middle-aged man who is 6 feet tall with long arms, brown hair and thick moustache. More often than not he has this unusually grim, fierce look on his face, as if (not so) subtly telling the unwanted guests to get lost before they get into trouble. The low, husky voice probably adds to the intimidation factor, although, in a weird way, it's rather pleasant on its own. Rhenwald can be usually seen wearing a buff coat and a hunter's hat adorned with feathers, his high-heeled boots pacing the ground as he smokes his pipe. What stands out in his appearance is the sheer cleanliness of his attire, almost to the point of immaculacy, which contrasts starkly with rumors about his drinking habits. Sometimes there's a faint glimpse of grief in his eyes, as if his wretchedness breaks through the veneer of not ever giving a damn, though what darkness his soul harbors he won't tell, as won't the rest of the folks in Jalanthar.
Character Sheet:
Last edited by Lezer on Mon 14 Jan 2019 - 9:16; edited 8 times in total
Stat Rolls:
#1: 1, 4, 3, 2 = 9
--------------------------------
#2: 3, 1, 4, 4 = 11
--------------------------------
#3: 1, 4, 3, 3 = 10
--------------------------------
#4 '1d6' : 6, 6, 6, 5 = 18
--------------------------------
#5 '1d6' : 2, 5, 3, 2 = 10
--------------------------------
#6 '1d6' : 3, 2, 4, 3 = 10
Great. I should probably opt for a point-buy

Last edited by Lezer on Fri 11 Jan 2019 - 6:59; edited 1 time in total
The member 'Lezer' has done the following action : Dices roll


---
#1 '1d6' : 1, 4, 3, 2

--------------------------------

#2 '1d6' : 3, 1, 4, 4

--------------------------------

#3 '1d6' : 1, 4, 3, 3

--------------------------------

#4 '1d6' : 6, 6, 6, 5

--------------------------------

#5 '1d6' : 2, 5, 3, 2

--------------------------------

#6 '1d6' : 3, 2, 4, 3
Admin




Posts

: 173


Join date

: 2018-06-01



The member 'Lezer' has done the following action : Dices roll


---
'1d8' : 8, 1, 4
Admin




Posts

: 173


Join date

: 2018-06-01



Similar topics
---
Permissions in this forum:
You
cannot
reply to topics in this forum